I just got back from the dentist so my mouth is looking rather lopsided at the moment. As soon as the numbness wears off, I think I will go to the gym. I have been feeling sluggish and tired a lot lately so I'm hoping a little physical activity will help.

So the theme of this post today is TV shows! There are several TV shows that I love that were started, but never quite finished. Sadly, we will never know what happens to the lovable characters in these shows because they have all been canceled after only one or two seasons.

My So Called Life (1994-1995): This is a really great show that follows the trials and tribulations of high school student Angela Chase and her best friends, Rickie and Rayann. This show features the young Clare Danes and the drop-dead gorgeous Jared Leto before his scary goth days. My So Called Life is a very touching and surprisingly candid look at youth in the '90s.

Middle Men (2008): This show must not have been very popular since it was canceled as soon as it started (only 12 episodes were made) but I absolutely loved it! This show revolves around Wendy, a young woman who is offered a job as a top secret super hero saving the world from aliens. This show is slightly ridiculous and always quirky. There is plenty of witty banter, action, and romance to satisfy any type of viewer. I highly suggest you check this one out if you are looking for something to do. Learn more about this show by clicking
here
.
Dead Like Me (2003): I loved this show! This one played for a full two seasons before disappearing forever. Ellen Muth plays a young college drop-out named Georgia who is suddenly killed by a fallen piece of space debris and is given a job as a grim reaper. Georgia and her fellow reapers must visit people who are going to die and pull out their souls to lead them to the next life. This show takes a look at death from the perspective of someone who has already died. It is, at times, serious and sad, but mostly this show is funny and extremely enjoyable. Look for full episodes on Hulu.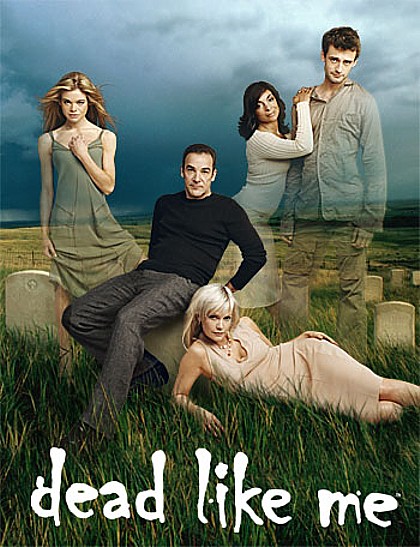 Pushing Daisies (2007-2009): Pushing Daisies is just magical. Lee Pace plays Ned, a young man who makes a living making pies but has the ability to make dead things alive again with just one touch. There are only two problems; if a dead person is brought back to life for longer than one minute, someone else must die to take their place, and if Ned touches a person who has been brought back again they will be dead for good. This becomes an issue when Ned revives his dead childhood sweetheart, Charlotte Charles. With it's quirky dialogue and beautiful imagery, Pushing Daisies is one that simply can't be missed. A few full episodes are available on the WB's website.

Eli Stone (2008): Eli Stone is a lawyer who, due to an inoperable brain aneruism, experiences bizarre visions that cause him to behave rather erratically. However, he discovers that these visions can show him the future and give him guidance about what court cases to take. Eli quits representing large companies in favor of doing pro bono work for people who really need his help. This show, while not my favorite, is very touching and entertaining with some elements of a law drama and some elements taken from musical theater. Great fun!

I am about to check out Wonderfalls now! What are your favorite TV shows?

In other news, I am buying this really awesome necklace that is made by Brighton. It has a red enamel painted frog on a lilly pad and it is soooo cute! I found one on ebay for significantly less than it would cost in the store. Check it out!

Well that's all for now. Enjoy this beautiful Monday!

Love,